How Trust Deed Escrow Works
Posted by Skyler Moore on Wednesday, April 22, 2020 at 10:35 AM
By Skyler Moore / April 22, 2020
Comment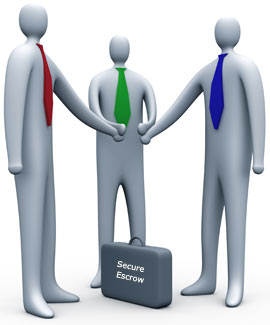 You've come this far, and you're almost done. However, just like when you personally buy a house, funding a loan or purchasing a promissory note has to be completed through an escrow process. This impartial third party acts as an intermediary between the buyer and the seller, or in this case, the lender and the borrower. The escrow agent will oversee the entire transaction and handle everything according to the contractual obligations.
As with all transactions, and before any money changes hands, the escrow agent needs to ensure that any loose ends are tied up so the transaction can be completed without problems. Some of these issues may be the payment of any delinquent taxes, the removal of any liens, the selection of any required title insurance, and all of the details pertaining to the deed of trust or promissory note. Each trust deed is different, so the conditions may vary from transaction to transaction.
Escrows for trust deeds will have specific instructions about the transfer of the land investment. It is critical that every detail is in writing, even any commitments or promises that were made casually during informal negotiations. The information is very straightforward and parallels what is required for other real estate transfers, including the names and titles of both the buyer and the seller, a description of the property and the negotiated price, as well as how any taxes, insurance and other costs might be divided among the parties. Your escrow agent will review all of the necessary details, but as the investor, it is incumbent upon you to read all of the paperwork carefully, making sure you understand every detail. Check that everything has been included and nothing omitted. If there is something you don't understand or seems unclear, ask your escrow agent for an explanation. This is the time to make your concerns known and get answers.
Remember not to confuse your escrow agent with an attorney. The escrow agent's job is to work with you to ensure that the transaction happens as smoothly as possible. They are not qualified to provide legal advice. Their only obligation is to your specific investment. If you are dealing with a complicated situation that requires input from legal or financial professionals, do not hesitate to get them involved at this point so all of your concerns are addressed.
As an investor, you want to make sure that your trust deed investment is protected from both manmade and natural disasters, so remember to work with your escrow agent to arrange for whatever casualty, fire and liability insurance is required to cover any potential damages. You will want to have proof that the insurance is in effect at the time of settlement.
You will also want to protect your investment by making sure the paperwork states that you will receive notification in the event that any previous loans go into default and before any foreclosure actions start. This could happen when taxes or insurance premiums haven't been paid or when other obligations haven't been met.
Your documents also need to include any other unique conditions pertinent to your trust deed investment, including any special conditions regarding late charges. It is also important to note that repayment of the loan in full is mandatory, in the case of liens or ownership transfers.
As soon as all of the conditions and requirements are handled, you will prepare for the closing, or settlement of the loan. This is when both buyer and seller come together to sign all the necessary papers, and the transaction is completed. At this point, there is no turning back, and any effort to make changes or cancel the contract could result in severe penalties or serious legal problems. Therefore, before you sign on the dotted line, make sure you understand and agree with everything that is in the closing documents.
Although most closings go smoothly, occasionally something comes up that disrupts the timetable for the settlement. However, escrow agents are used to working out any problems and can arrange to have paperwork pre-signed prior to settlement. A power of attorney can also be used if an individual is unable to appear at the agreed-upon settlement time.
Once all papers are signed, the escrow agent will take care of the other formalities. The title company will record the trust deed, the paperwork will go to the lender and the funds released to the borrower. Although it sounds complicated, it is a routine process. Once all of the perfunctory and procedural parts are completed, you will get a settlement sheet, showing the financial breakdown and disbursements of funds.
Finally, make sure you keep your paperwork organized and in a safe place, such as a safe deposit box or a fireproof and waterproof home vault. Keep your escrow agent's business card handy, along with your file number. And be sure you have an extra hard or electronic copy of all documents available, in case you have any questions.
Congratulations! You've successfully invested in a trust deed!